Sztuka Przejścia '22 - Best Diplomas 2022 of the Eugeniusz Geppert Academy of Art and Design in Wrocław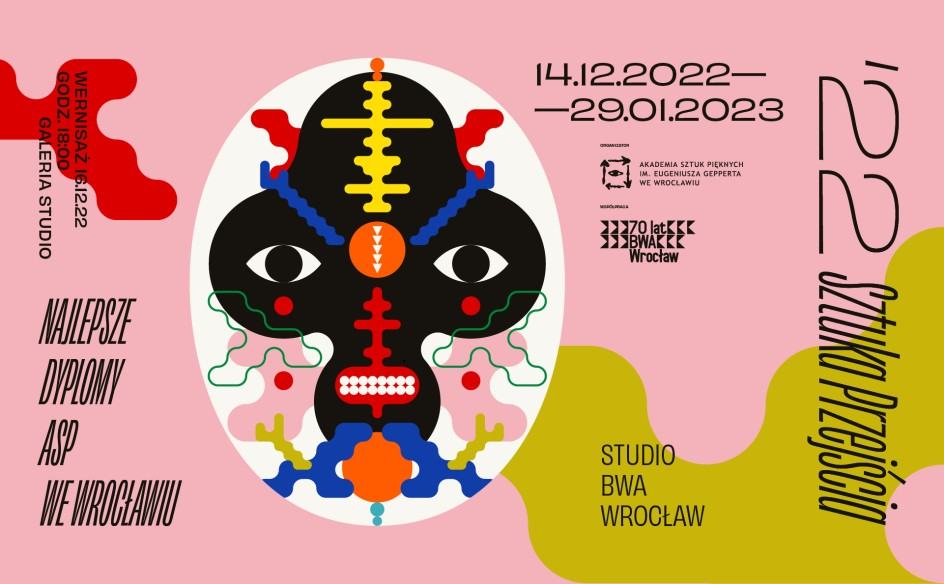 Time
14 Dec 2022 — 29 Jan 2023
Location
14.12.2022 – 29.01.2023 – BWA Wrocław Główny, Studio BWA Wrocław
14.12.2022 – 05.02.2023 – Dizajn BWA Wrocław, SiC! BWA Wrocław
We would like to invite you to the vernissage and the announcement of the results, which will take place on Friday, 16 December at 6 p.m. in the Studio BWA Wrocław.
For the eighteenth time BWA Wrocław will present diplomas of the graduates of the Eugeniusz Geppert Academy of Art and Design in Wrocław from all departments and faculties run by the academy. This time, we have planned a surprise for you and the diplomas will be presented in all four BWA galleries in Wrocław. 
The presentation of the best diplomas of young artists is an event that has been taking place since 2004 and is a joint activity of the Eugeniusz Geppert Academy of Art and Design in Wrocław and BWA Wrocław. For the participating young artists, the exhibition is often their first encounter with a large cultural institution and its audience. For the audience, it is a chance to get to know their work and confront the art of the young generation just leaving the walls of the art academy. 
During the opening ceremony on Friday 16 December, the results of the competition will be announced. We will meet the laureate of the main award for the best diploma in 2022, funded by the Rector of the Academy, and the laureate of the award of the Association of Polish Artists ZPAP - Wrocław.
participants: Grzegorz Bibro, Daria Kowalewska, Patrycja Niemiec, Julia Hołoś, Dominika Rudnicka, Gabriela Błaszyńska, Katarzyna Sikorska, Marlena Maczuga, Aleksandra Pawłowska, Patryk Gmerek, Klaudia Kasperska
exhibition set design: Michał Hrisulidis, Sebastian Siepietowski
visual identity: Karolina Wiśniewska
organiser: Eugeniusz Geppert Academy of Fine Arts in Wrocław
co-organiser: BWA Wrocław Contemporary Art Galleries