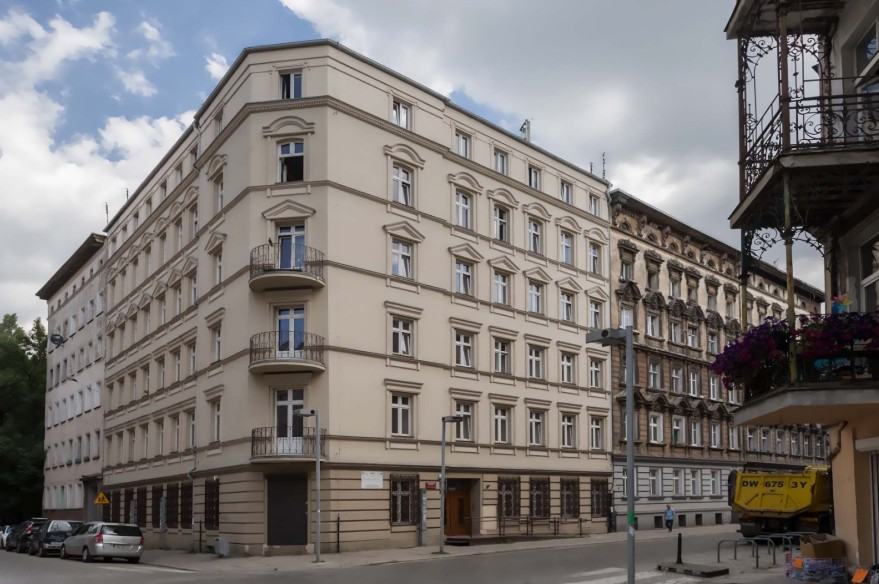 Conditions habitable
The dormitory offers 81 places for both Polish and foreign students.
In disposal of inhabitants:
common room with TV, laundry room with washing machines, Internet, kit of bedclothes, lamp, pillow, blanket, drying room on the each floor there is artistic studios, kitchen with fridge, bathrooms
Price list
double room with bathroom ( 750 pln / month )
double room or triple room in module, one bathroom shared for 5 people (680 pln/month)
double room or triple room without bathroom ( 570 pln /month )
Disbursement rent of Dormitory exclusively credit transfer on account Academy of Art Design
Information about folding  of application on semester, academic year to Dormitory
The basis for awarding a place in the SH  is submission of a complete application, within the prescribed period: 
students and participants of doctoral studies until 30 June of this year,
foreigners studying on the basis of international agreements: 
until 30 June 2023 - for winter semester
until 10 December 2023 - for summer semester
  candidates admitted to the first year of studies until 25 August 2023
 Vacation accommodation 
On the holiday  day it is possible to rent accomodation in the  Dormitory 
Person wishing to stay in the Student Dormitory  are required to submit a reservation on line to the following address: akademik@asp.wroc.pl.
 We kindly invite you to contact us by phone  and  e- mail if you are interested in  renting a place in the room. 
 Information is provided by the Administration of the Student House from 7.00 - 15.00, akademik@asp.wroc.pl 
Appealing people, nice atmosphere, artists
Student House ASP Wrocław
Student House ASP Wrocław
Address
Administration Dormitory
ul. Henryka Pobożnego 9
50-241 Wrocław
Reception – 24/h
Phone +48 71321036
Administrator of Dormitory
mgr Magdalena Kowalczyk
phone: +48 71 321 55 68
e-mail: akademik@asp.wroc.pl
The office is open for students : 7.00 – 15.00 ( Monday – Friday )