A performance directed by Duda Paiva "Bad Plays" with costumes by Dżesika Zemsta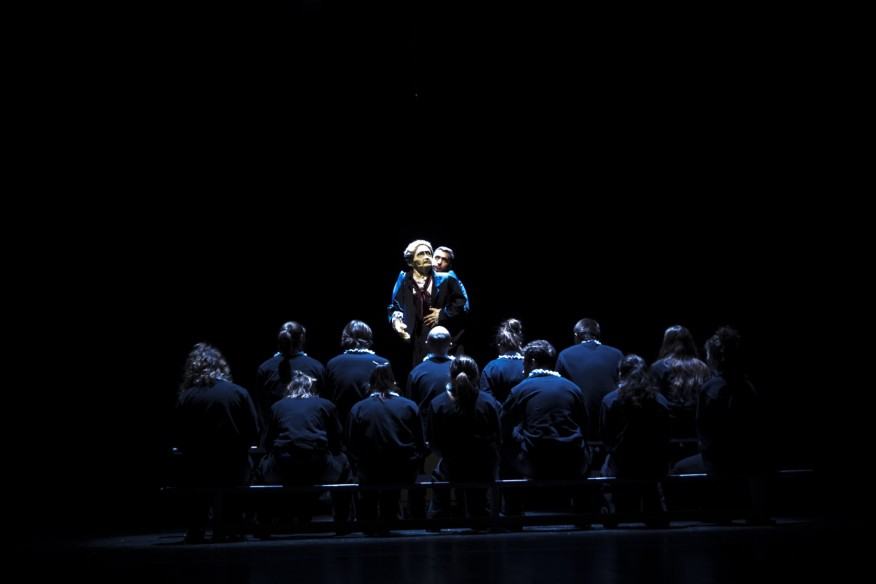 Location
Tadeusz Różewicz Stage
Wrocław, ul. Braniborska 59
We invite you to the graduation performance of the fourth-year students of the Acting Department of AST, with costumes designed by Dżesika Zemsta, a fifth-year student of Stage Design.

Premiere: 29 January 2022.
Subsequent dates: 31 January, 5 and 8 pm, 1 February, 6 pm
Tadeusz Różewicz Stage
Wrocław, 59 Braniborska St.
What do dolls' houses have in common with the dark world of bloody crimes? What can a grandmother in a suit know about a psychopathic murderer? Meet Frances Glessner Lee, the mother of modern criminology. A noble and wealthy old lady, she had astonishing hobbies. She recreated crime scenes in miniature models with incredible attention to detail. 1940s America. Investigations are often carried out carelessly. Evidence is lost. Traces are obliterated. Guilty men walk free. Frances is convinced that her miniature representations of crime scenes can change that. She wants to teach police officers to see the detail. Details that often make the difference between finding and solving crimes. He gives his whole life and money to this cause. These ghostly "dolls' houses" are still being used to teach students of forensic science. We decided to let our imagination run wild and, following the example of Mrs Frances, recreate the course of famous murders committed in Poland. Is there a method in this madness?
Diploma performance by fourth-year students of the Faculty of Acting, Wrocław Branch

Directed by: Duda Paiva
Screenplay: Malina Prześluga
Music: Piotr Klimek
Assistant Directors: Aleksandra Błażejczyk, Paweł Strumiński, Marta Wiśniewska
Mock-ups: Robert Romanowicz
Costumes (puppets, actors) and set design elements: Dżesika Zemsta
Puppet designs: Duda Paiva
Concept of stage space: Duda Paiva
Graphic design: Dżesika Zemsta
Photography: Paweł Strumiński, Kamil Turowski
Characterization for photos: Maria Borowska - Czary Mary
Starring: Aleksandra Błażejczyk, Piotr Błędowski, Magda Bolkowska, Nikola Czerniecka, Alicja Helfojer, Jakub Ignasiak, Magdalena Jędrysiak, Katarzyna Kalemba, Błażej Modelski, Emil Musialski, Paweł Pacyna, Wojciech Parszewski, Bartłomiej Sambor, Anna Sienicka, Patrycja Skrzypczak, Zuzanna Wiatr
---
Photo: Karolina Sołtys
Posted by: S. Siepietowski