Lathe Riders Grit & Wheels Convention 2023 in Frauenau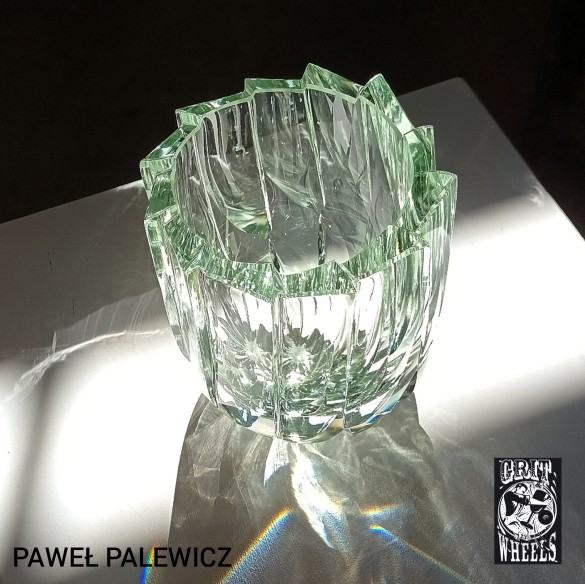 On August 20 - 25, 2023 took place International event "Lathe Riders Grit & Wheels Convention 2023" in which ten artists - craftsmans which specialize in cold work technique took part.
Creative meeting was organized out of own creative initiative of the participantes in Bild - Werks Frauenau in Germany. Poland and The Eugeniusz Geppert Academy of Art and Design in Wrocław were represent by Paweł Palewicz, scientific and technical specialist in the department of glass.
During the event participantes made artistic and utilitarian objects using the techniques: cutting, grinding, carving, polishing, sand blasting and glass bonding.Paweł Palewicz made an unique utility object "BW2023", which can be seen togheter with other works in the attached photos. By using wide flat cuts the artist provided the glass form with dynamics, enriching it with optical effects, expressing this way the craftshmanship of grinding skills.
The artists also created a joint sculpture "ICHI" as a result of the "Pass it on project 2023" campaign, which involved each participant having an hour to make any modification to the glass block and pass it on to the next person. The names of the artists below:
1.Paweł Palewicz (Polska)
2. Patrick Roth (Austria)
3. Samuel Weisenborn (Niemcy)
4. Henriikka Pöllänen (Finlandia)
5. Julian Michel (Niemcy)
6. Jenny Mulligan (Irlandia/Szwecja)
7. Jeroen Kurpier (Holandia)
8. Lothar Böttcher (RPA)
9. Tobby Ritzkowsky (Niemcy)
10. Petr Slavik (Czechy)
On 26/08. the joint days of work were crowned with a display of the objects made in the Bild-Werk glassworks and the opening of an exhibition in the Glasmuseum Frauenau, which additionally presents the original works of the convention participants. The exhibition will be available to visitors until November 5, 2023.
Group / event profile:
www.instagram.com/the_latheriders
Photos:  001 -021: Paweł Palewicz
Photo: 022: Sven Bauer