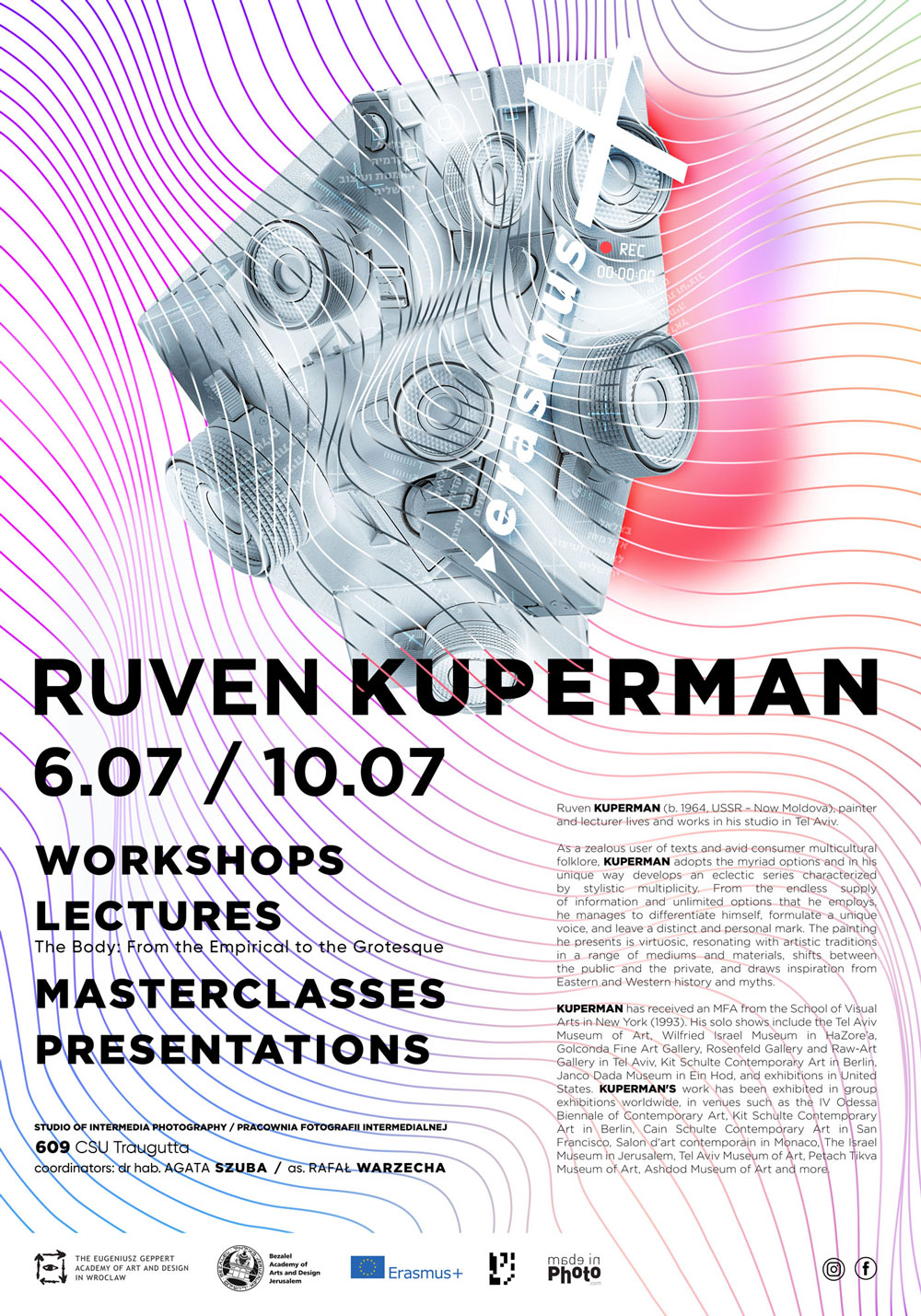 We invite you to see a photoreport of the visit of Prof. Ruven Kuperman from Bezalel Academy of Arts and Design in Jerusalem.
Bezalel Academy of Arts and Design, Jerusalem / 7-10.07.2021
The Eugeniusz Geppert Academy of Art and Design in Wrocław,
Department of Media Art, Studio of Intermedia Photography,
Studio of Imaging Techniques.
Prof. Ruven Kuperman visited our University within the Erasmus+ Programme, which aims, i.a. at enriching the teaching offer of the Academy. During his visit, he conducted a series of lectures, workshops and consultations for students of all faculties - giving them an opportunity to become acquainted with different artistic approaches, initiating discussions on contemporary photography.
The professor's visit is another result of the established cooperation between the two Academies, including Studio of Intermedia Photography and two Fotography Studios led by Prof. Noa Sadek and Prof. Ruven Kuperman.
Several independent projects (lectures, seminars, presentations, etc.) were realised as part of joint activities. The initiating event was a visit of Prof. Andrzej P. Bator and assoc. prof. Agata Szuba to Bezalel Academy of Arts and Design in Jerusalem within the Erasmus+ programme.
7-10.07.2021
A series of lectures and workshops with Prof. Ruven Kuperman / hybrid meetings
07.07.2021 - Within the framework of Michel Foucault and in particular the examination of the evolution of the meaning of madness, we will discuss and see different approaches recording psychiatric institutions and prisons, LGBTQIA+ (Lesbian, Gay, Bisexual, Transgender/Transsexual, Queer/Questioning, Intersex, Asexual/Allies, Nonbinary/Genderqueer +) people with an intimacy and at a times passionate look on the Other
08.07.2021 - We will approach the above subject with a dialogue with the Feminist Philosophy, Embodiment, Phenomenology, thinker Sara Cohen Shabot. Different practices of the body taking place in contemporary culture as a resistance or as part of communication technologies, artificial intelligence and all together the disappearance of the physical body. It seems that the body is an open narrative, always to be changed, metamorphosed, in constant flux waiting for new interpretation.
-----------------------------------------
Ruven Kuperman (born 1964 in the Soviet Union, now Moldova) is a photographer, painter and lecturer at the Bezalel Academy in Jerusalem.
An ardent devotee of stories and folklore from many cultures, Kuperman draws on countless sources to create eclectic series characterised by stylistic diversity. His work is virtuosic, resonating with artistic traditions in terms of media and materials used, leaping between the mass and the individual, drawing inspiration from the history and myths of East and West.
His solo exhibitions have taken place at the Tel Aviv Museum of Art, the Wilfried Israel Museum in Hazorea, the Golconda Fine Art Gallery, the Rosenfeld Gallery in Tel Aviv, Kit Schulte Contemporary Art in Berlin, the Janco Dada Museum in Ein Hod as well as in the United States. Kuperman's work has also been exhibited in group exhibitions around the world, including the 4th Odessa Biennial of Contemporary Art, Kit Schulte Contemporary Art in Berlin, Cain Schulte Contemporary Art in San Francisco, Salon d'art contemporain in Monaco, Israel Museum in Jerusalem, Tel Aviv Museum of Art, Petach Tikva Museum of Art, Ashdod Museum of Art, and many others.
Coordinator of the visit: assoc. prof. Agata Szuba, ass. Rafał Warzecha
Faculty of Media Art, Academy of Art and Design in Wrocław
Visit realised within the Erasmus+ Programme and Visiting Professors, Scientae Wratislavienses fund, financed by the Wrocław Municipality.