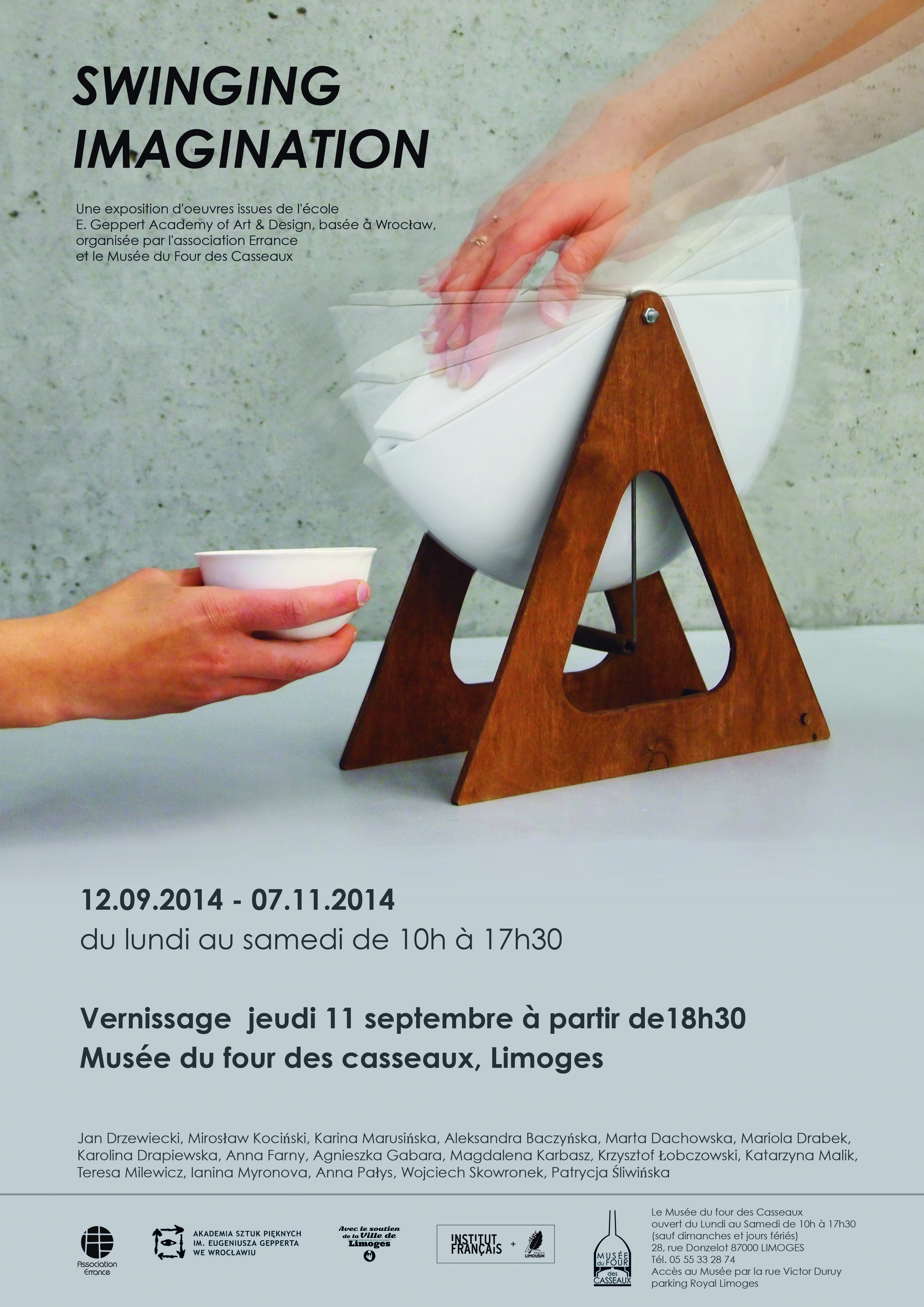 Exhibition of works by Polish faculty and students: The E. Geppert Academy of Art and Design in Wrocław, Faculty of Ceramics and Glass, Ceramics Department, II Studio of Functional Ceramics Design in France.
The exhibition 'Swinging Imaginations', organized in celebration of the 40th anniversary of the Second Studio of Functional Ceramic Design, presents the results of work and research in the studio and aims to introduce the latest Polish design, which is increasingly recognized and appreciated in Europe and the world. Ceramic objects are elements of interior design, proposals of new ways of serving meals, multifunctional objects that can be adapted to individual needs. Projects are prototypes having potential for industrial implementation.
The Musée des Casseaux, home of the Casseaux Kiln, is dedicated to the History and the Technics of the Limoges Porcelain. The Museum is directed by the association Espace Porcelaine since 1987.
This industrial building from the late 19th century shows the evolutions on the making and the difficulties or successes through the quest of mastering the fire. The raw materials, the shapings, the firings with the help of various tools, it all reminds us the dedication such a work required and above all, the intense fight against the flames it was to produce beauty. The Casseaux Kiln, old round kiln classified Historical Monument, is not only the testominy of a massive architecture, it is the witness of human and technical performances, for a long time hidden behind beauty.
Place: Musée du Four des Casseaux, 28, rue Donzelot, Limoges, France
Time: 12.09.2014 – 07.11.2014
Opening: 11.09.2014, 6:30 PM

Artists:
Jan Drzewiecki, Mirosław Kociński, Karina Marusińska, Aleksandra Baczyńska, Marta Dachowska, Mariola Drabek, Karolina Drapiewska, Anna Farny, Agnieszka Gabara, Magdalena Karbasz, Krzysztof Łobczowski, Katarzyna Malik, Teresa Milewicz, Ianina Myronova, Anna Pałys, Wojciech Skorwonek, Patrycja Śliwińska

Organizers and Partners: 
- Eugeniusz Geppert Academy of Art and Design in Wrocław
- Association Errance
- Association Espace Porcelaine / Musée du Four des Casseaux
- Institut Francais
- Ville de Limoges
- Région Limousin

II Studio of Functional Ceramic Design
The main goal at our studio is to prepare the graduates for working as independent professionals in the field of industrial design (especially functional ceramics) and to improve their teamwork skills. The training program is implemented by lectures, consultations with specialists, academic workshops and internships in companies. Students carry out prototypes of products as a result of a complete design cycle: conceptual designs (flat and three­dimensional), ergonomic analysis, models, technical documentation, visualization, plaster molds and finally ceramic objects.
The workshop is run by: Jan Drzewiecki, Mirosław Kociński, Karina Marusińska. 

Info: Karina Marusińska, Anna Zielińska