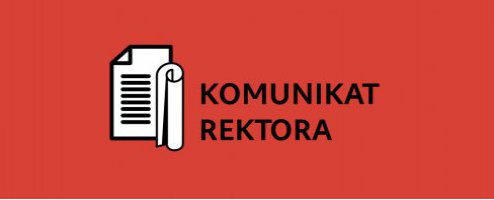 on the organisation of examination session and work at the E. Geppert Academy of Art and Design in Wrocław
Dear Students, Doctoral Students and Lecturers,
In view of the worsening epidemic situation in the country and the increased threat of the Covid-19 virus (Omicron variant), based on the arrangements among the Rector's College, a decision has been made to hold the winter examination session remotely. The exams and exam reviews will be conducted using information technology and tools contained in the MS Office 365 package.
Until the end of the semester, i.e. 30 January 2022, classes will be conducted according to the present rules.
From the date of the beginning of the session, i.e. 31 January 2022, individual work of students and doctoral students in studios and workshops is suspended and the ban on entering the premises of the E. Geppert Academy of Art and Design in Wroclaw is introduced.
If the epidemic situation in the country does not improve, it is planned to start classes in the summer semester in the remote mode, about which an appropriate announcement will be made by 14 February 2022.
The rules of working in accordance with the following are maintained:
- Ordinance I/94/2021 on special rules for teaching in the academic year 2021/2022 with regard to the Covid-19 outbreak and
- Ordinance I/120/2021 on changing the mode of special rules of teaching in the winter semester of the academic year 2021/2022, due to the exacerbation of the Covid-19 epidemic.
All contacts with the University administration should be made by phone or email. Issuance of necessary documents and certificates will be made by prior appointment with a member of staff in the Dean's Office or other department by email.
Collective meetings of students, doctoral students, and scientific circles at the University are suspended, and the work of circles and other student and doctoral organizations should take place using distance technology.
All the lecturers, employees, students and doctoral students are requested to follow the information posted on the Academy's website and communicated via e-mail.
Rector
Prof. Wojciech Pukocz