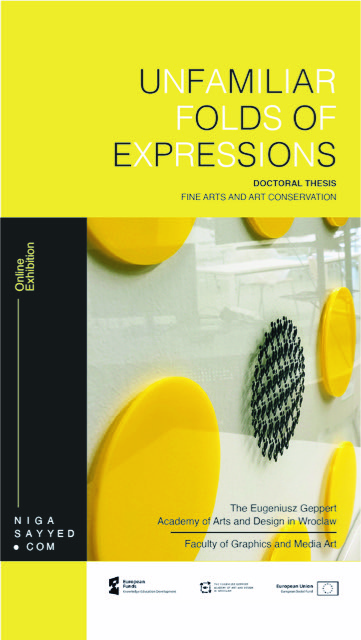 We invite you to visit the virtual exhibition which presents the works of doctoral student Niga Sayyeda Shahryar
This exhibition by Niga Sayyeda Shahryar, as part of her thesis work for her Doctoral Degree at the Eugeniusz Geppert Academy of Art and Design in Wroclaw, Poland. Works were created under a supervision od prof. Paweł Frąckiewicz.
The exhibition can be viewed under this link: www.nigasayyed.com
To underline the role of migrants in today's world and the challenges they are facing in their every day's course of life. It's an opportunity to recognize their contributions made to the modern world and a platform for all to come together and voice their concerns regarding the fundamental freedom of rights of the migrants. It is surely the first step in the right direction, but it's a long and challenging journey to change the global mindset. "Migration" a dilemma born out of globalization and is deeply rooted in political repression, poverty, poor political strategies and violation of human rights that the world mainly witnessed during colonialism. These are some of the many issues to weaken society's social structure and threaten the world's peaceful stability and significantly add up to the problems that migrant face.
My research topic, Unfamiliar folds of Expressions, deeply examines the issues, which migrants face universally. I investigate how the weak structure of society built racist and discriminatory behaviour and marginalized these people. I build up a narrative through a series of archetypes to voice against discriminations faced by migrants and work towards a global social cohesion on such issues.
As an artist, my archetypes are my visual expressions highlighting my artistic identity through my language. Since I addressed a wider global audience, I took a minimal approach for people to relate easily. I have used simple colours with bold graphical shapes and forms to advocate the protection of migrants and their fundamental rights, which will result in a cohesive society for all.
–– –– –– ––
The doctoral studies and the procedure on conferring a doctoral degree are implemented as a part of the project:
POWR.03.05.00-00-Z021/17-00 "Internationalization of education, a competent teaching stuff and modern management as a guarantee of quality and international presence of the Academy of Art and Design in Wrocław". The project is co-financed by the European Union from the European Social Fund.
---
posted: im